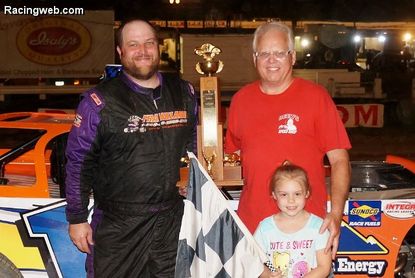 Alex Ferree won the Herb Scott Memorial at
Pittsburgh's PA Motor Speedway on June 17, 2017.
---
Alex Ferree Earns Hard Fought Herb Scott Memorial Win At PPMS
Imperial, PA (June 17)...At the end of 30 hard fought laps, Alex Ferree from Valencia earned the victory in the Fifth Annual Herb Scott Memorial race at Pittsburgh's Pennsylvania Motor Speedway on Saturday night. Ferree fought his way to the lead after being in fourth place with ten laps remaining, earning $3000 in Race 1 of the Diehl Automotive Super Series, as the event was sanctioned by the Zimmer's Service Center United Late Model Series.
Other Herb Scott Memorial winners included Garrett Krummert from Ellwood CIty in the Big Block Modifieds, Daryl Charlier of Midway in the Precise Racing Products RUSH Late Models, Bob Schwartzmiller of Robinson Township in the Sunoco Sportsman, and Kole Holden from Tiona in the RUSH Modifieds.
With 21 entries, Mike Norris and Jared Miley were the heat race winners, after Miley had earlier set the fastest qualifying time with a lap of 17.494 seconds. The redraw for the top six starting positions gave front row berths to Mike Pegher, Jr. and Russ King, with Pegher leading from the start. Third starting Miley moved to second early, followed by fourth starting Alex Ferree. The battle was for second before the first caution period came on lap 4 for a slowing Colton Flinner. Back to green, Pegher continued to lead with Ferree getting second, before Miley regained it on lap 6. The leaders raced through traffic on lap 10, but the running order remained the same as Mike Norris joined the battle for the lead. Working lap 18, Miley made an outside pass of Pegher to take the lead, but when the yellow flag waved for a slowing John Wayne Weaver, the pass would be negated as the next lap was not scored.

The Delaware restart was an interesting one. Pegher, in the front row by himself, brought the field up to speed, but he would be split as Miley passed to his inside and Ferree passed to his outside. Miley emerged with the lead, with Pegher able to regain second as Norris passed Ferree for third. Ferree passed Norris for third on lap 23, as the next yellow waved on lap 25 for a tangle between Tommy Schirnhofer and Michael Davis who were battling for ninth. A red flag slowed the pace for a four car tangle as the race resumed, as Norris pitted with a soft tire.

The next plot twist in the event came as the race restarted with five laps to go. As Miley led the field back to green, Pegher made an inside pass in turn two to take the lead. Ferree made a charge to Pegher, and as Miley tried to get the lead back on the high side of turn three, he touched the outside wall which resulted in his right rear tire going flat, bringing out a lap 26 caution. Ferree was leading when lap 26 was scored, and would be the leader when racing resumed.

Ferree would control the race back to green, as Keith Barbara had quietly advanced from fifth to second. Third was being hotly contested between Flinner, back from the tail on lap 4, Pegher, and King. Another spin by Weaver working the final lap would set up a one lap dash to the finish, as Pegher exited to the pits under caution. Ferree controlled the one lap dash to win by .547 seconds in his Blue Mountain Energy, Franklin Racing Supply, Butler Pre-Owned, Penn Star Ventures, American Die Cast, Domhoff built Ford powered Rocket Chassis. Barbara settled for a close second, as Norris recovered from his pit stop on lap 25 to earn third place money. King was fourth, with Flinner fifth. Miley recoved from his pit stop to finish sixth, as Jake Gunn, Dave Hess, Jr., Bobby Rohrer, and Jon Hodgkiss rounded out the top ten.

A field of 13 Modifieds were on hand with Kevin Bolland and Dale Hawkins leading the field to green for 25 laps. Bolland took the lead at the start with Brandon Watkins taking up the chase. Seventh starting Garrett Krummert was the man on the move, taking third from Jeff Miller on lap 5. Passing Watkins a lap later, he quickly closed on Bolland. With an outside pass on lap 9, Krummert completed his charge to the front and began pulling away from the field. Yellows on laps 15 and 17 would slow the pace, the second for J.R. McGinley hitting the wall hard in turn one. Krummert would have no problems the rest of the way, taking the win over Bolland by 2.738 seconds. Miller had a good run for third, over Rick Regalski and Mike Turner. Finishing sixth, seventh and eighth were Brandon Watkins, Scott Van Gorder, and Hawkins, who along with Bobby Watkins who dropped out on the lap 15 caution, were part of a group that made a nearly seven hour trip from Delaware. Heat winners were Krummert and McGinley.

The 20 lap Precise Racing Products RUSH Late Model main had Chuck Recker and Mike Reft showing the way, with Reft and fourth starting Justin Lamb moving away early. With Reft high and Lamb low, their lead battle had Lamb leading by a nose at lap 5, before the event's lone caution period came when Recker spun in turn four. On the restart, Lamb resumed in the lead but Brandon Wearing moved to second, driving the Bill Kessler 09. Eleventh starting Daryl Charlier moved to third on lap 7, and slipped by Wearing a lap later. Lamb had a bit of a lead built up, but Charlier quickly sliced into it. With an inside pass off of turn four, Charlier would take the lead with 12 laps scored. From there, Charlier would pull away from the competition, taking a 4.479 second win in his Bud's, NAPA Auto Parts McDonald Auto Supply, Tri State Motorsports, Kane's Ideal Truck Service, Kurt Thompson Real Estate Agent at Howard Hanna Rocket Chassis powered by a 604 crate engine by Ingram. Lamb settled for second over a good battle for third over the closing laps. Ben Policz made a late charge, moving from fifth on lap 16 to get third at the finish. Wearing was fourth, with Reft recovering to take fifth from Russ Matejka on the final lap. Charlier and John Mollick took the heat races.

The Sunoco Sportsman feature was led by Danny Rich and Nick Kocuba, with Rich taking the early lead over A.J. Poljak, Wayne Carbo, Kocuba, and heat winner Bob Schwartzmiller, who started sixth after winning last week's feature. Rich nosed away in the lead as the battle for second swapped positions constantly. Schwartzmiller moved to second on lap 5, and started to reel in Rich. After sticking a nose inside, Rich moved down a lane and was able to hold off the charges of Schwartzmiller. On lap 12, Schwartzmiller wound up with a run on the top, then cut down to the inside, giving him enough momentum to slip inside of Rich to take the lead at lap 13. In turn one, third running Poljak slammed the outside wall, with Kocuba making contact with Poljak's car with the back of his car. Despite a lot of body damage, Kocuba continued on but Poljak was not so lucky, with his car cradled off on two tow trucks. On the side by side restart with two laps remaining, Schwartmiller used the outside to clear Rich, going on to his second straight victory by 1.083 seconds in his SGM Phelps Nursery, Total Image, Fotowich Trucking, Hoosier Tire Precise Racing, Alternative Power Sources entry. Rich was second for consecutive weeks, returning to weekly competition for the first time since 2009. Bill Robertson won the battle for third over Carbo, Dave McManus, and Kocuba's wounded car.

After sisters Jessica Kriegisch and Chelsie Kriegisch had won the earlier heat races, Rocky Kugel and Kole Holden led the 15 lap RUSH Modified feature to green. With Kugel inside and Holden outside, they raced the first three laps side by side until Kugel finally nosed ahead. Chas Wolbert passed Chelsie Kreigisch for third on lap 5, but up front Kugel held the low line with Holden right behind on the high side. At halfway, Kugel seemed to start to inch away from the competition. A spin by A.J. Gillespie on lap 10 would force the only caution period of the event. Back to green, the side by side battle for the lead continued. Holden continued to attack the top side and would nose ahead down the backstretch, but Kugel would get a better run and would lead at the line. Finally, on lap 13, Holden made the top work and nosed ahead at the line. Kugel made one final charge on the last lap, but despite a little contact off the final turn it was Holden taking a narrow .147 second win over Kugel. Wolbert was a close third over Chelsie Kriegisch and Kyle Martell, with 14 cars on hand.
There will be no racing next week at Pittsburgh's Pennsylvania Motor Speedway, with the next show scheduled for Saturday, July 1. Berks/Nickles will present Dollar Dog Night with Diehl Automotive Driver Autograph Night, as the Rick's Trucks and Equipment BOSS Sprint Series for traditional non-winged sprints will be visiting. Also in competition will be weekly point racing for the Precise Racing Products RUSH Late Models, Sunoco Sportsman, Super6 Late Models, Miley Truck Rental Hobby Stocks, Imperial Heights Garage Young Guns, and CruiseAmerica Open Fours. The Twin State Auto Racing Club will be guests of the speedway.
---
For complete information, please visit the track website at www.ppms.com .
For all PPMS racing programs, the gates open at 5:00 PM, with warm-ups at 6:00 PM and racing at 7:00 PM. Follow us on Facebook at @PAMotorSpeedway or on Twitter at @PAMotorSpeedway for timely information updates. The Twitter account is used extensively on race nights for live updates. Pittsburgh's Pennsylvania Motor Speedway is located west of the city of Pittsburgh, just south of the Noblestown exit of U.S. Route 22, or 170 Kelso Road in Imperial, PA, for GPS purposes. The track phone is 724-695-3363 on race days, or call 412-279-RACE.