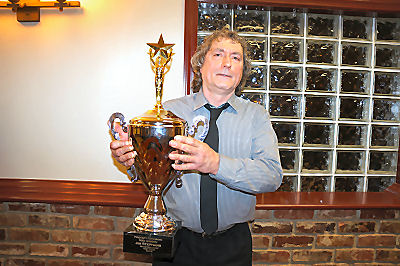 Jim Stephans won the Sportsman of the Year Award
at the PPMS Awards Banquet on March 8, 2014
2013 PPMS Champions to be honored at annual awards banquet
By: Marcie Barlow
PITTSBURGH, PA...Pittsburgh's Pennsylvania Motor Speedway will honor the speedway's 2013 competitors at the annual awards banquet to be held Saturday, March 8th at the Lafayette Room located at 7678 Steubenville Pike, Imperial, PA 15071. The Cocktail Hour will begin at 6:00PM followed by Dinner at 7:00PM. The Awards Ceremony will follow and an Open Bar and dancing will close out the evening's festivities which will conclude at 11:00PM. More
---
Exciting 2014 planned for Jennerstown Speedway Reopening
By: Corey Simmons

(January 4, 2014)...The Laurel Highlands will once again rumble with the sound of race cars in 2014. The famed half mile, Jennerstown Speedway is reopening, and will once again be the center of Saturday night asphalt racing in southwestern Pennsylvania. This, thanks to three gentleman that couldn't take seeing a historic racetrack with such potential sit dormant and decay any longer. More
---
Scott Bloomquist Conquers Silver Anniversary of the Pittsburgher 100
PITTSBURGH, PA Scott Bloomquist may have not had the season that he's wanted in 2013, but it definitely took a turn for the best on Saturday night as he outdueled a talented field of National Dirt Racing League (NDRL) Super Late Models to win the $25,000 check in the 25th Annual Pittsburgher 100 at Pittsburgh's Pennsylvania Motor Speedway (Imperial, Pennsylvania).
Scott Bloomquist overtook fellow front row starter, Billy Moyer on lap 12, and once out front never looked back on his way to a convincing win in the 100 lap feature. The victory was his fourth triumph of his career in the mega-event.
In victory lane a jubilant Bloomquist climbed atop his #0 Roush Yates powered Bloomquist Race Car in front of a massive approving crowd at the historic, half-mile oval with the checkered flag hoisted high in the air.
After catching his breath and climbing back to the ground the Mooresburg, Tennessee driver addressed the raucous crowd.
"We've been doing a lot of testing this year, and some things have worked and others haven't. Tonight it did," Bloomquist commented. "The car would just go wherever I needed it to be, and I felt really comfortable out there tonight."
Fellow Dirt Late Model Hall of Famer Billy Moyer snagged the lead as the finale went green with Bloomquist, Jason Feger, Dale McDowell, and Mason Ziegler in pursuit. By lap 9 the leaders were already in lapped traffic, and three laps later Bloomquist took advantage of heavy lappers to shoot past Moyer for the lead exiting turn three.
As the race endured a long green flag run Feger raced past Moyer a few laps later and set his sights on the leader, Bloomquist. The front duo set a blistering pace lapping up to the 15th position by lap 40 as they established a nine second lead on the pack.
The race's first caution flew on lap 42 as Jackie Boggs slowed from contention with mechanical issues.
"The hardest point of the race tonight was not knowing what was happening behind me," noted Bloomquist in victory lane. "I just had to assume I was in the best spot during those long green flag runs."
Two more cautions struck over the next thirty laps to slow the action including 4th place runner, Dale McDowell falling pit-side on lap 51.
The race's final caution waved for John Garvin Jr. on lap 72 with the top five running order including Billy Moyer, Jason Feger, Eddie Carrier Jr., and Kent Robinson, who started back in 16th. As the green flag waved for the final time Robinson rocketed into the 3rd spot with Feger beginning to fade.
Over the closing laps of the event Moyer tried to catch Bloomquist for the lead, but his attempts would fall short as Bloomquist won by just over a second with his fastest lap of the race coming on the final circuit. Jason Feger found motor issues biting him with five laps remaining as he retired from the top five.
Billy Moyer crossed the finish line in the 2nd spot to claim the inaugural National Dirt Racing League Championship, which included a $20,000 check. "I've got to give Kennedy a lot of credit for what he's put together here," commented Moyer after the race. "These purses have been amazing and every race has seemed like a World 100 caliber field. I said a few years ago I was done point's racing, but here I am tonight.
Kent Robinson, Eddie Carrier Jr. and 21st starting, Rick Eckert, founded out the top five finishers.
Jackie Boggs topped the 49 entries on hand in Keyser Manufacturing time trials with a 19.326 second lap around the half-mile. Heat race action was topped by Jason Feger, Keith Barbara, Mason Ziegler, Scott Bloomquist, Billy Moyer, and Dale McDowell won the heat races. B-main action was topped by Austin Hubbard and Eric Wells.
The NDRL's 25th Annual 'Pittsburgher 100' Results for Saturday, October 12, 2013
Full Results
Finish / Start / Car # / Name / Purse
1. (1) 0 - Scott Bloomquist - $25,000
2. (2) 21 - Billy Moyer - $10,000
3. (16) 7R - Kent Robinson - $6,000
4. (12) 28 - Eddie Carrier Jr. - $4,000
5. (21) 24 - Rick Eckert - $3,000
6. (10) 22- Gregg Satterlee - $2,750
7. (7) 25C - Shane Clanton - $2,500
8. (9) 15B - Brian Birkhofer - $2,250
9. (11) 1R - Josh Richards - $2,100
10. (6) 25Z - Mason Zeigler - $2,000
11. (8) H1 - Jared Miley - $1,900
12. (20) 18W - Eric Wells - $1,800
13. (19) 11H - Austin Hubbard - $1,750
14. (18) 02 - Brandon Burgoon - $1,700
15. (23) 28M - Jimmy Mars - $1,650
16. (4) 25F - Jason Feger - $1,600
17. (17) J4 - John Garvin Jr. - $1,550
18. (15) 6 - Steve Shaver - $1,500
19. (25) 10 - Alex Ferree - $1,500
20. (3) 17M - Dale McDowell - $1,500
21. (22) 1* - Chub Frank - $1,500
22. (14) 4B - Jackie Boggs - $1,500
23. (5) 17B - Keith Barbara - $1,500
24. (13) 1J - Davey Johnson - $1,500
25. (24) 28E - Dennis Erb Jr. - $1,500
Heat Race #1: 25F Jason Feger, 25C Shane Clanton, 1J Davey Johnson, 11H Austin Hubbard, 72 Michael Norris, 7M Michael Davis, 29 Garrett Krummert, 21M Tony Musolino
Heat Race #2: 17B Keith Barbara, 15B Brian Birkhofer, 6 Steve Shaver, 24 Rick Eckert, 6L Jamie Lathroum, 27 George Kowatic, 0B Steve Baker
Heat Race # 3: 25Z Mason Zeigler, 1R Josh Richards, J4 John Garvin Jr., 28M Jimmy Mars, 99B Boom Briggs, 28E Dennis Erb, 49 Brian Ruhlman, 1U Matt Urban
Heat Race #4: 0 Scott Bloomquist, H1 Jared Miley, 4B Jackie Boggs, 18W Eric Wells, 6T Tim Dohm, 99 Donnie Moran, 79 Mike Altobelli Jr.
Heat Race #5: 21 Billy Moyer, 22 Gregg Satterlee, 7R Kent Robinson, 18 Jon Henry, 10 Alex Ferree, 9K Mike Knight, 44 Derek Stephanik
Heat Race #6: 17M Dale McDowell, 28 Eddie Carrier, 02 Brandon Burgoon, 1* Chub Frank, 38 Jim Stephans, 8Ball Mark Pettyjohn, 69 Jon Hodgkiss, 0K Kari Gasser
B-Main # 1: 11H Austin Hubbard, 24 Rick Eckert, 72 Michael Norris, 32F Coleby Frye, 99B Boom Briggs, 21M Tony Musolino, 7M Michael Davis, 29 Garrett Krummert, 28E Dennis Erb Jr., 49 Brian Ruhlman, 1U Matt Urban, 6L Jamie Lathroum, 28M Jimmy Mars
B-Main #2: 18W Eric Wells, 1* Chub Frank, 6T Tim Dohm, 1C Lynn Geisler, 10 Alex Ferree, 38 Jim Stephans, 99 Donnie Moran, 75 Colton Flinner, 9K Mike Knight, 69 Jon Hodgkiss, 44 Derek Stephanik, 0K Kari Gasser, 8Ball Mark Pettyjohn, 79 Mike Altobelli Jr., 18 Jon Henry
UEMS Modifieds A-Main: 5T Jonathan Taylor, 2A Rick Aukland, 49 Brian Ruhlman, 220 Dan Davies, 144 Anthony Kinkade, 14 Scott Stiffler, 17JE J.E. Stalder, GRS2 Deana Groves, 92 Joel Watson, 10H Randy Hall, 75 Jacob Hawkins, 44B Kyle Bedell, 65T Bruce Takach, 62 Ken Zimmer, 7E Evan Taylor, 114 Carmen Perigo, 44 Matt Fulton, 57 Brian Huchko, 3N Dennis Nakutis, 07 Brock Burcher, 98 Todd Canter, 68 Steve Dixon, 6M Carl McKinney, 65M Tom Martineck, 01 Vic Vena, 33 Bob Moskie
FINAL 2013 NDRL Let's Get Dirty Tour Point Standings
1. 21 Billy Moyer 974
2. 1R Josh Richards 946
3. 28M Jimmy Mars 908
4. 25 Shane Clanton 906
5. 15B Brian Birkhofer 904
6. 18W Eric Wells 896
7. 28E Dennis Erb Jr. 870
8. 25 Jason Feger 864
9. 1J Davey Johnson 752
10. 0 Scott Bloomquist 722
11. 28 Eddie Carrier Jr. 714
12. 11 Austin Hubbard 662
13. 99 Donnie Moran 543
14. 22 Gregg Satterlee 538
15. 19 Tim Fuller 515